| | |
| --- | --- |
| | S.r.l. |
Tel./Fax 095-7188068 Cell.368-3760845
---
TA-954/TT
DIGITAL NON-STORAGE VOICE TERMINAL
US-ARMY

Robusto telefono da campo funzionante a 2 o 4 fili.
Contenuto in robusta custodia ABS ermetica.
Con tastiera a 16 tasti e controlli di volume e suoneria.
Completo di microtelefono H-350/U utilizzabile anche su tanti apparati radio di ultima generazione.
Riceve e trasmette voce modulata ,digitalizzata e dati a 16 Kb/s o 32Kb/s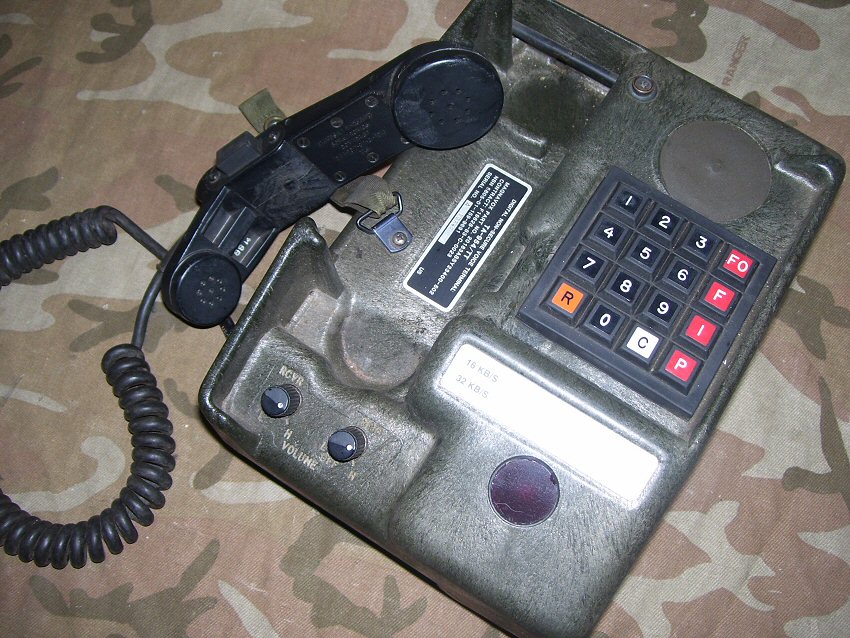 TA-954/TT
DIGITAL NON-STORAGE VOICE TERMINAL

NON-SECURE DIGITAL VOICE TERMINAL used in Tri-Tac comm-system: 4-wire set xmits and receives diphase-modulated digital voice and loop signaling info at 16K or 32K bits. 125 ohm line impedance 125 ohms; range 4 km using WF-16 field (no stock). Requires 24-56 VDC, Tone pad has characters 0-9, FO-F-I-P-R-O-C; also Volume L-H Ring - Receive & H-250 handset. Plastic case is EMI/EMC static protected.
T A - 9 5 4 / T T
Digital Nonsecure Voice
NSN: 5805-01-159-9691
Reference: TM 11-5805-735-12
T e r m i n a l
General Information
The digital nonsecure voice terminal (DNVT) TA-954/TT is a four-wire terminal
contained in a ruggedized case, which transmits and receives conditioned diphase-modulated
digitized voice and loop signaling information at 16 or 32 kb/s. The DNVT has a 16-key push
button keyboard, receiver and ring volume controls, an incoming call/off-hook indicator light,
and writing pad. It contains built-in protection from nuclear energy electromagnetic pulses
and lightning. Handset H-350/U is issued with the DNVT. The microphone element is
activated when the handset is removed from the cradle (hot mike). The push-to-net radio
interface switch is only pressed to key the C-6709. The DNVT provides a digital
communications interface with Tri-Service Tactical Communications (TRI-TAC) and Mobile
Subscriber Equipment (MSE) circuit switches.
Technical Characteristics
Channel Interface-Field Wire . . . . . . . . . . . . . . . . . . . . . . . . . . . . . . . . 4-wire field cable
Transmission Range . . . . . . . . . . . . . . . . . . . . . . . . . . . . . . . . . . . . . . 4 km (2.4 mi) max
Input Power-Power Drain:
On Hook . . . . . . . . . . . . . . . . . . . . . . . . . . . . . . . . . . . . . . . . . . . . . . . . . . 300 mW, max
Off Hook . . . . . . . . . . . . . . . . . . . . . . . . . . . . . . . . . . . . . . . . . . . . . . . . . . . . 1.5 W, max
Power Requirement . . . . . . . . . . . . . . . . . . . . . . . . . . . . . . . . . . . . . . . . +24 to +56 V DC
Current Drain:
On Hook . . . . . . . . . . . . . . . . . . . . . . . . . . . . . . . . . . . . . . . . . . . . . 12.5 Ma, +24 V DC
5.0 Ma, +56 V DC
Off Hook . . . . . . . . . . . . . . . . . . . . . . . . . . . . . . . . . . . . . . . . . . . . . . . 62 Ma, +24 V DC
25 Ma, +56 V DC
Weight . . . . . . . . . . . . . . . . . . . . . . . . . . . . . . . . . . . . . . . . . . . . . . . . . . . . 2.7 kg (5.8 lb)

Vedi Filmati su:

Oggetto da collezione
EURO 30,00
---
MATERIALE IN PRONTA CONSEGNA

Qualunque ordine è subordinato all'accettazione delle nostre
Partita Iva 04076320870 C.F. 92018420874